On site appraisals include an itemized list of your collection with up-to-date valued prices for each book. $100.00 per hour. For more information by call: 206.463.0880 or email us at:
We are located in the Burton community of Vashon Island, WA. If you would like to arrange a viewing, call: 206.463.0880 or email us at: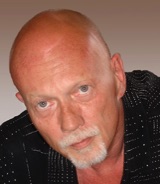 Outrider Book Gallery owner, Randy Barnes, has been collecting the best of modern literature and poetry for 45 years.
A serious scholar of modern poetry and literature and a poet in his own right, he pursues his passion for the best and most important contemporary works
to offer his clients. Outriders' books are selected with the knowledgeable eye of a true connoisseur. His business standards are equally high, treating his customers with honesty, integrity, and efficient service.
You can purchase books directly from our site using the Paypal "Buy Now" Buttons located by each of the individual books featured on this site's pages.
To browse our complete inventory, see our online collections at Outrider Book Gallery's store fronts on AbeBooks or Alibris. Once there, you can browse by genre or search for a particular book by title, author, subject, or ISBN. (On Alibris use the search box below our logo to find our books. To browse the whole Ablibris site use the search box at the top of the Alibris page).
OUTRIDER BOOK GALLERY
Fine, Rare, Collectible